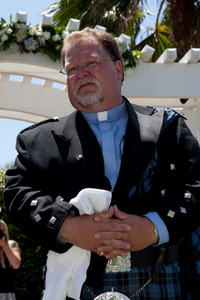 Bringing the ceremony traditions of the Scottish Highlands to your celebration!
Rev. Christopher MacFarlane Tuttle (FSA, Scot)
Scottish Wedding Vows; Romantic ~ Traditional ~ Scottish!
---
In my humble opinion, the Scottish wedding ceremony is the most beautiful way to celebrate your special day and is one of the few remaining ceremonies that stays true to its traditions. The ceremony incorporates every guest in attendance with all the spiritual and traditional acts that have long since left most contemporary ceremonies. Hand-fasting, The Blessing and/or presentation of the family sword, the pinning of the family tartan, the presentation of the new family kilt and many other traditions can be included in the ceremony if desired.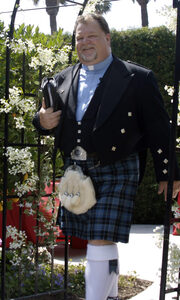 Is this the same cost as your traditional ceremony? Sorry no,  there is much more planning to a Scottish ceremony. There are too many factors (date, location, etc) to state prices on the website. Let's talk and find out what your needs are and, if I am available.
Do you wear a kilt? Aye! the formal Prince Charlie. If requested, I can wear a formal tuxedo shirt and tie rather than the cleric shirt or either of my clan tartans.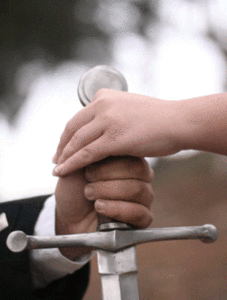 Can you help with vendors that specialize in Scottish wedding ceremonies? Yes, I know a few local caterers that specialize in Scottish cuisine (yes, even Haggis) and great musicians (harpists and Pipes!)
Do you attend the rehearsal? I highly recommend a rehearsal if you are going to incorporate all the elements of the ceremony and there is an additional fee for time and travel. This may also require accommodations to have me for the rehearsal and is also based on availability. I do my best to keep fees as low as possible as I do love to perform this wonderful wedding ceremony. It is truly a passion for me!
---
Celebrations that can be included in your Scottish Highlands Wedding:
Hand-Fasting
Pinning of the Clan Tartan
Presentation of the Family Kilt
Blessing of the Family Sword
The Quiaich with Scottish poem (ceremony or cèilidh)
Calling of the Piper
Scottish Family Memorial
Blessing of the Haggis (at cèilidh)
I am very proud to have created the International Society of Kilted Clergy; An association of Clergy worldwide that preserve and promoted the wearing of the Tartan of the Clergy.