What an honor, thank you….. The ONLY San Diego Wedding Officiants to win 8 years in a row!

—————————-
As Wedding Chaplains, Reverend Christopher Tuttle and Chaplain Mary Cyr-Tuttle are able to serve couples; whatever their faith, beliefs and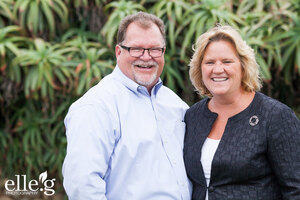 even non-beliefs. They also offer elopement services in San Diego, La Jolla, Sunset Cliffs, Coronado and Mission Bay in addition to larger gatherings.
As a Scottish Parson, Reverend Christopher MacFarlane Tuttle offers specialized services of Scottish Highlands Weddings, and both offer La Jolla Wedding Bowl Weddings and many other ceremonies.
Vows From The Heart Ministries holds an A+ Rating with the San Diego Better Business Bureau which assures couples of our Integrity! CLICK HERE
Understanding the Ceremony AND the Reception
Outside the walls of a church, a couple's wedding day seems to be just one BIG event. It's Not! The Ceremony and the Reception need to be looked upon as two entirely different and separate elements of your big day. You need someone that understands the ceremony, all the elements and someone that can handle all the "Oops" and "Uh-Oh's" that can… and will happen on your big day! Their goal is to make the ceremony a direct reflection of the two of you, who you really are. Not what you think has to happen but, what you want to happen. They are proud to perform an upbeat yet personal ceremony that segues right into the excitement and fun of your reception!
Reverend Christopher and Chaplain Mary want to exceed your expectations of a Wedding Officiant.
They are 100% devoted to their craft and their couples in search for a non-denominational wedding Chaplain to preside over their wedding ceremony outside the walls of the Church with professionalism and most importantly, without judgment.
What is Rev. Christopher's and Chaplain Mary's style? In recent reviews the most common words used by Brides and Grooms to describe them are: Fun, Personal, Fun, Warm, Fun, Professional, Fun, Romantic, do you notice a theme here. Simply visit the "Reviews" page and read for yourself, direct from the Brides and Grooms themselves.
"I firmly believe that one Wedding Officiant can't be the end all – be all to everyone and those that say they are, well, are not being truthful with themselves" said Rev.Christopher in a recent interview. "Each Officiant has a style and personality that needs to match the couple. For example, I'm not the Sister Mary moonshine, creative writing course graduate type. You know.. "and the clouds parted and the angels flung their arrows into the souls of our couple…" Not to say I can't present that in a reading during the ceremony if my couples wish, but that's so not my style and I don't mind telling my couples right from the start. I think how I've won the hearts of my couples is; by not presenting MY ceremony, but by presenting the ceremony THEY help to create. How? By using my ceremony handbook which they receive at our interview. They help select all the elements of their ceremony : readings, prayers, blessings, poems, vows, ring promises and acts of celebration. It's done in such a way that is easy, couples become very proactive in the creation of their ceremony thus, becoming a true reflection of the two of them and their love and the style the ceremony is presented to everyone."
…
…
…
…
…
* Using the word "Best" in this statement has been approved by the Better Business Bureau of San Diego. Bridal Insider awards for "Best San Diego Wedding Officiant" were won prior to 2011 when voting was open to all and prior to Officiants (wedding vendors) having to pay a membership fee to be considered for this award.

Rev. Christopher Tuttle is a San Diego Wedding Officiant, a San Diego Wedding Chaplain, a San Diego Wedding Minister, providing Wedding Ceremony services in San Diego. Rev. Christopher Tuttle is also a Temecula Wedding Officiant, a Temecula Wedding Chaplain, a Temecula Wedding Minister, providing Wedding Ceremony services in Temecula Wine Country.
W